Recommend the bus trip from Kyoto, Osaka, and Kobe to famous tourist
attractions in Japan.
A comfortable and convenient bus trip
will take you to the scenic spots!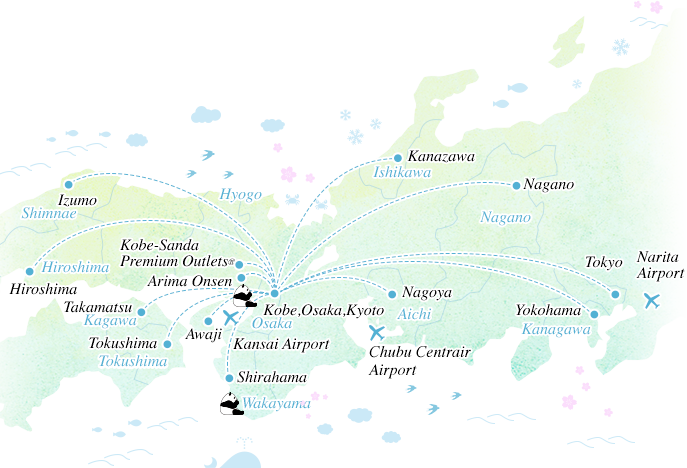 The advantages of JR Expressway Bus.
The advantages of JR Expressway Bus.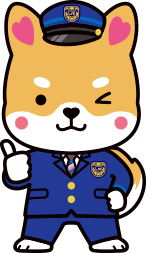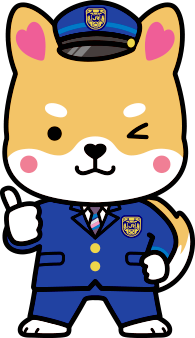 A trip by JR Expressway
Buses is your
best choice.
Safety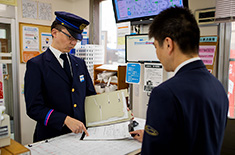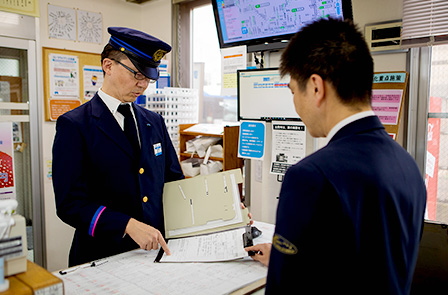 24hours/365days operation management, routine safety & skills training, and introduction of the latest safety system, we will make unremitting efforts to ensure safe and secure travel.
Save
Money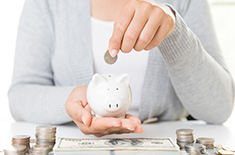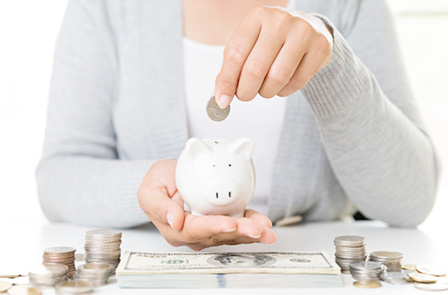 Bus travel has a more reasonable price than other transportation methods. There is also a variety of pre-sale fares for you to choose from.
The night buses arrive at your destination early in the morning, so you can save money on hotels while spending more time sightseeing! Very efficient!
Easy to go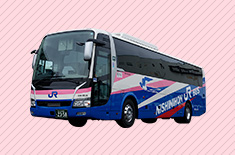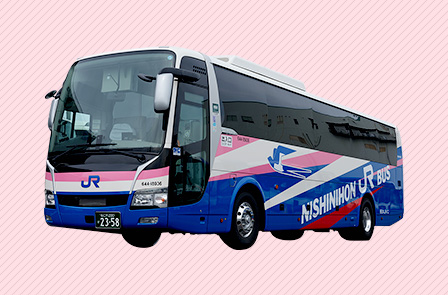 It is a day-time and night-time express bus connecting Kyoto・Osaka・Kobe and the main cities in Japan. There is a variety of seats from comfortable and reasonable to luxurious and spacious for you to select. We reach your destination without any transfer.


Daytime

Night
* As of September 2019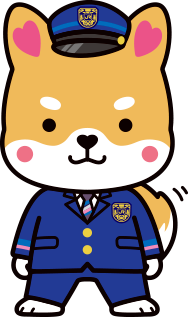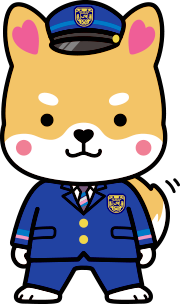 Birthday: March 1st
Features: 3 hearts on both ears and my nose♡♡♡
Hobbies: Collect and share bus tour information.
Special skills: Even on the night bus, I can sleep tight.
Dream: Someday I can drive the bus to give you a happy trip.
(I don't have a driver's license yet...)
Once getting the bus, you can soon
reach the famous scenic spots!
Introduction of main sightseeing spots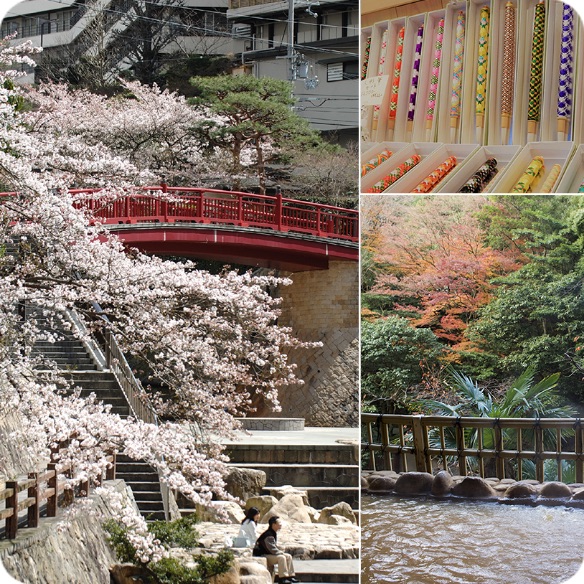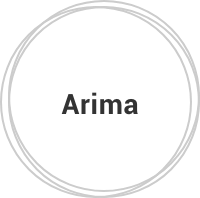 Arima Onsen:
Arima Hot Springs
0 minute on foot to Arima Hot Springs
Arima Onsen is in Hyogo prefecture. It is one of the three oldest hot springs in Japan, and also known as one of the three top hot springs in Japan by philosopher Razan Hayashi and in the book "Makura no Soushi".
You can go for a walk in Arima Onsen town, and also enjoy the famous public Hot springs "Kinsen"(Golden Hot spring) and "Ginsen"(silver Hot spring).
The JR Express buses run from Kyoto, Osaka, Sannomiya / Shin-Kobe Station to Arima Onsen, and come back on the same day. So convenient! !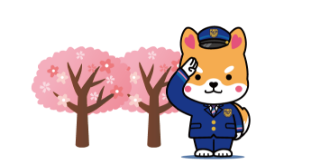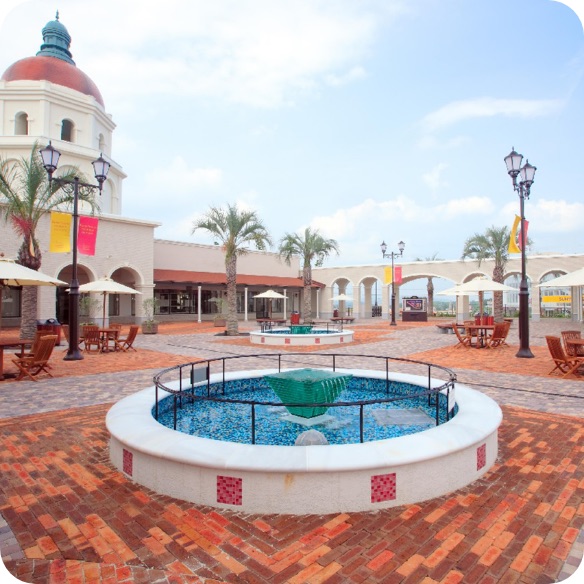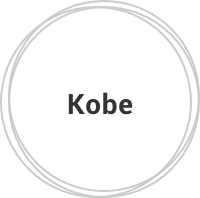 Kobe: Kobe-Sanda Premium Outlets
0 minute on foot to
Kobe-Sanda Premium Outlets
A shopping mall for popular brands from Japan and overseas at sale prices.
There are direct buses from the Osaka Station JR Expressway Bus Terminal, so that you could enjoy shopping as soon as getting off the buses.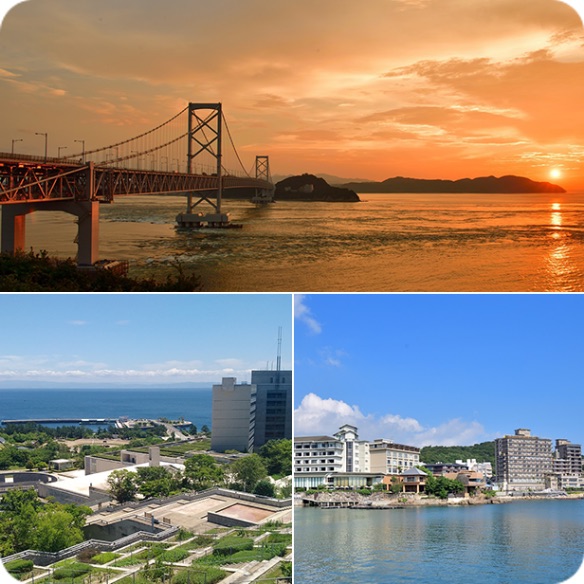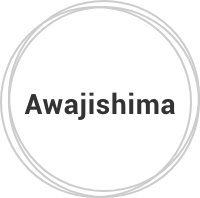 Awajishima:Yumebutai ・Sumoto HotSpring
0 minute on foot to Yumebutai・Sumoto HotSpring
Awaji Island is in Hyogo Prefecture.
In "Awaji Yumebutai," the "Hyakudan-en Garden" has one hundred flower beds arranged in steps up the side of the mountain, and the view of Osaka Bay and the sea of flowers are beautiful.
After viewing the flowers, visit the "Sumoto Onsen Town" in the eastern part of Awaji Island and relax in the outdoor hot spring overlooking the magnificent ocean.
North Awaji also has amusement facilities such as the sacred place for hello kitty fans "HELLO KITTY SMILE" and the popular anime "Naruto" theme park.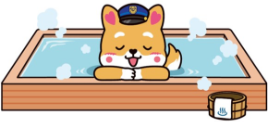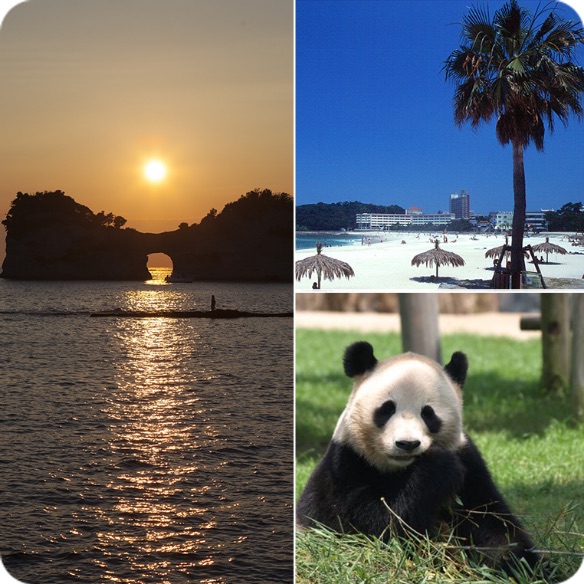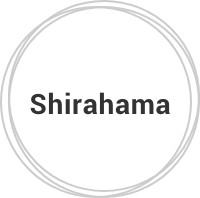 Shirahama : Adventure World・Toretore Market
0 minute on foot to Adventure World・Toretore Market
Shirahama is in Wakayama prefecture, a popular seaside resort in western Japan.
There is a one-million-square-meter Adventure World that combines a zoo, an aquarium, and an amusement park, along with the largest seafood market in western Japan - ToreTore market run by the local fishery cooperative. There is a variety of fantastic seafood at a reasonable price for you to either enjoy here or take home. Nearby are the beautiful Engetus Island, the white Shirarahama Beach, and the Sandanbeki.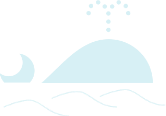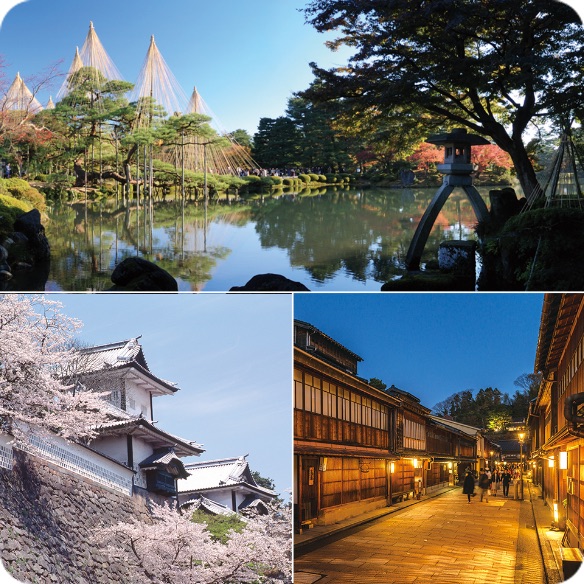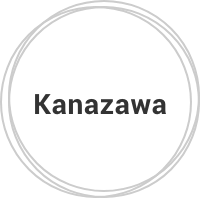 Kanazawa: Kenrokuen
20 minutes on foot from JR Kanazawa Station
Kenrokuen is in Kanazawa city of Ishikawa prefecture. Along with Okayama City's Korakuen and Mito City's Kairakuen, it is one of the top three beautiful gardens in Japan. Kenrokuen is a garden combining the six attributes of scenic beauty. As a strolling-style landscape garden, it incorporates fancy designs in every corner, achieving peerless scenery in each season. Kenrokuen was given the top rating of the three star spots in Michelin Green Guide' in 2009. It also has famous sightseeing spots such as Kanazawa Castle and Higashi Chaya District.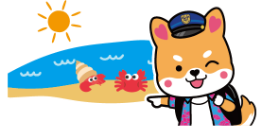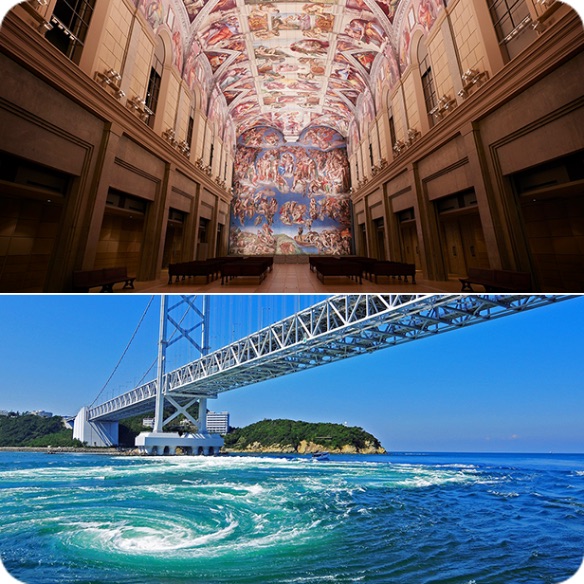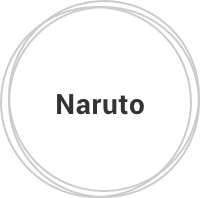 Naruto:Otsuka Museum・Whirlpoor road
0 minutes on foot to Otsuka Museum
3 minutes on foot to Whirlpoor-Road
Naruto City is in the northeastern part of the Tokushima Prefecture.
There are popular sightseeing spots such as the Whirlpools, the Naruto Strait, and the Otsuka Museum of Art that focuses on reproductions of ceramic plates. At the Whirlpools-Road, you can see the whirlpools that form in the "Naruto Strait" from a height of about 45m. In the Otsuka Museum of Art, you could see Western masterpieces that have been reproduced in full-scale using ceramic plates. The exhibition area is about 4 kilometers long. If you want to enjoy the famous paintings slowly, please leave enough time.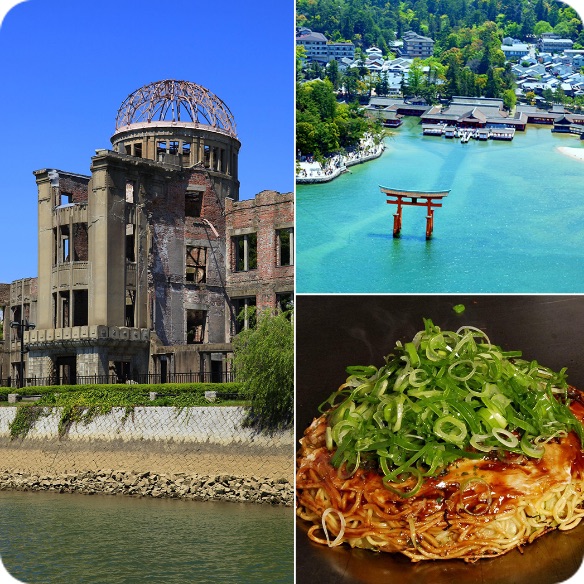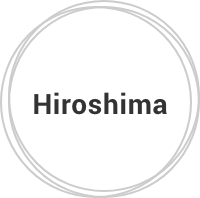 Hiroshima : Atomic Bomb Dome
10 minutes on foot from the Hiroshima Bus Center
A building left as it was in order to convey to future generations the terrible nature of the nuclear atom bomb being dropped during WW2 in 1945. With the hope that such a tragedy does not happen again, it is known as "negative" World Heritage Site.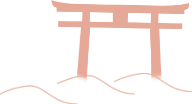 Reserve now on Expressway Bus Net
To purchase tickets after arriving in
Japan,
visit the "Osaka Station JR
Express Bus Terminal"!
Osaka Station JR Express Bus Terminal
(JR Osaka Station)
For convenience, we have an electronic billboard and broadcast in four languages!
Take about 2 minutes from JR Osaka Station Central ticket Gate.
You also can take a break in our bus waiting room before departure.
Main destinations of Osaka
Station JR Expressway
Bus terminal
Kanto
region:

Tokyo/ Shinjuku / Tokyo Disneyland / Yokohama

Tokai
region:

Nagoya/ Shizuoka/ Hamamatsu / Nagashima Spa Land

Hokuriku
region:

Kanazawa/ Toyama

Kinki
region:

Shirahama/ Awajishima (Sumoto)/ Arima Onsen/ Kobe-Sanda Premium Outlets / Kinosaki Onsen

Chugoku
region:

Nishiwaki/ Tsuyama/ Okayama/ Hiroshima/ Hamada/ Masuda

Shikoku
region:

Tokushima/ Takamatsu/ Kochi/ Matsuyama
Access to the Bus Terminal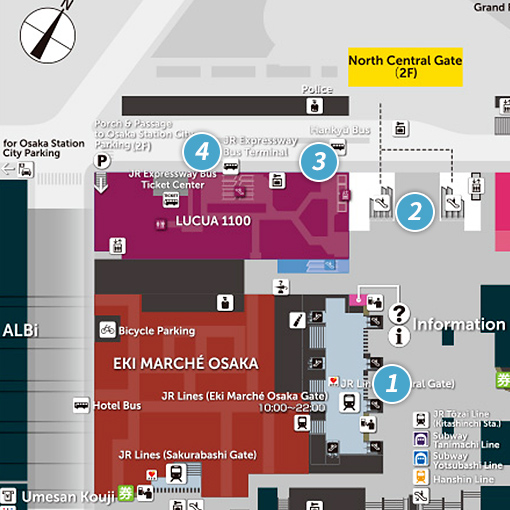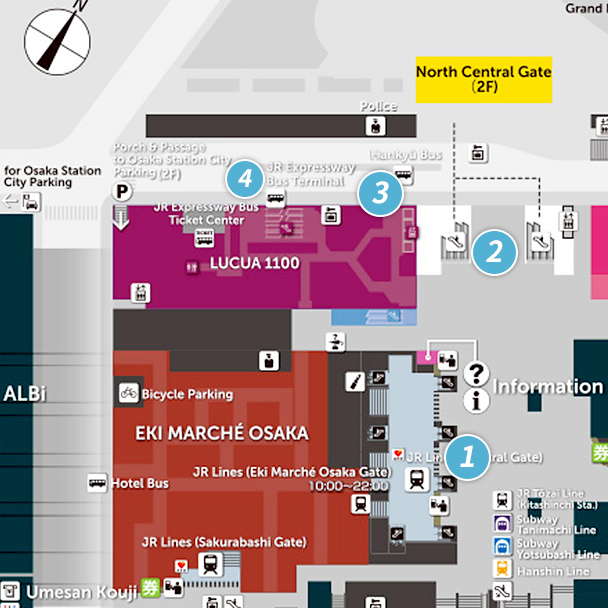 1Exit the JR Osaka Station Central ticket gate( 1st Floor)and turn left.

2Go straight outside towards the North Central Gate( 1st Floor).

3After exiting the North Central Gate, it is the Osaka Station JR Express Bus Terminal

4On the left side of platform 1 is the JR Express Bus Ticketing Center.
写真提供:©横浜市観光情報、©一般財団法人神戸観光局、広島県、公益社団法人和歌山県観光連盟、©石川県観光連盟